How to Transfer Contacts from LG to iPhone
When you switch your LG to a new iPhone, are you bothered by the problem of contacts conversion? You fail to do this for the reason that the format of your Android contacts is not compatible with iPhone. How to move mobile phone data between two operating systems successfully? Mobile Transfer will be a good answer.
This powerful software makes contacts transfer between Android and iOS devices become possible, no matter where you contacts store in. Furthermore, all the specific information of your contacts will be transferred without any quality loss. Now you can do according to the operation guide underneath and achieve your contacts transfer program easily. If you want to transfer your photos, videos, text messages and music between Symbian, Android and iPhone, you can follow the similar way to transfer them.
How to Transfer Contacts from LG Phone to iPhone
Step 1. Launch the Mobile Transfer app and select a mode
At the first place, you need to have the software gotten to work. When you see the interface as below, select the mode of "Phone to Phone Transfer".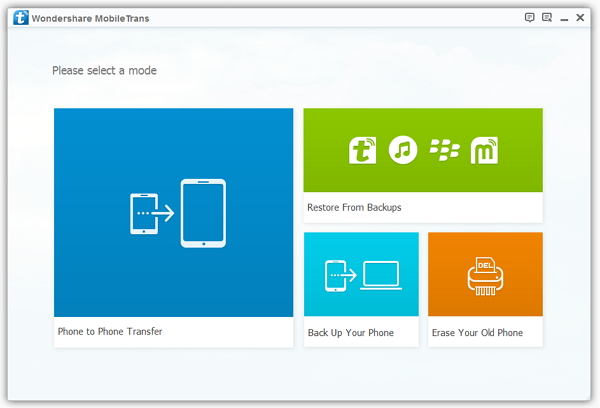 Step 2. Build the connection between both phone and the computer
In this step, you are required to link your both phones to the computer by using a USB cable. Next you will find that the position of your LG and iPhone is "Source" and "Destination" on both sides respectively.(If they are in a conversed position, you are allowed to change it by clicking "Flip".) Data transfer is from "Source" to "Destination".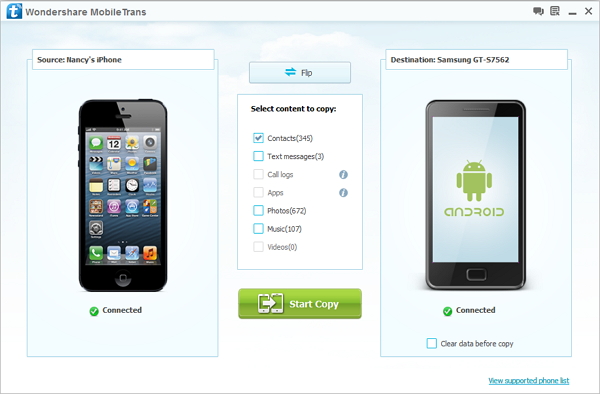 Note: If you want to transfer the contacts in your LG account, you need to log in first. In order to make room for your LG contacts, remember to click "Clear data before copy" to clear the data in your iPhone, and it depend on your need.
Step 3. Select those Contacts which you want to transfer to iPhone
Before clicking the "Start Copy" to transfer the contacts, please tick the option of "Contact" in the content. Then the transfer process will start by automatic drive. If you want to stop the transfer process in the halfway, you can achieve it by tapping "Cancel".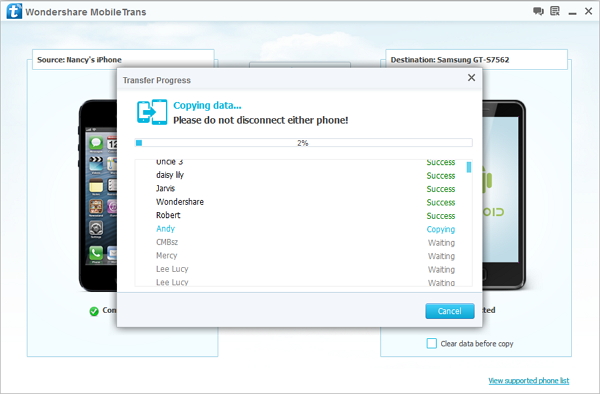 Note: Make sure that both your LG phone and iPhone are connected in a good condition with your computer during the transfer process.
You can verify the data that transfer to your iPhone when the contacts transfer process is completed.
Now, download Mobile Transfer on your computer to have a try!
comments powered by