How to Transfer Photos from Android to Android
Young people today are more often to take pictures with their mobile phone for its convenience. Sometimes, they may have struck in the trouble of transferring photos from their Android to the one of their friend. In another case, people who switch to a new Android also meet such kind of problem. What action should you take to deal with this problem? For my part with this issue, you'd better turn to a practical software called Mobile Transfer for help.
Mobile Transfer
is tailored for people who want to move
photos, contacts, text messages, videos and apps
from one Android to another. The photos transfer process is conducted in an easy as well as secure way with a user interface which is clear and straightforward. Just one click, you can achieve what you want. If you are interested in it, the instruction below is for your reference.
You are allowed to download the trial version underneath for free. Now, you can begin to transfer Android photos.
Procedure of transferring Photos from one Android to another
Step 1. Complete the installation of Mobile Transfer
Launch Mobile Transfer after you finish the installation on your computer. When the window appears like the sample picture below, you need to choose the Phone to Phone Transfer mode.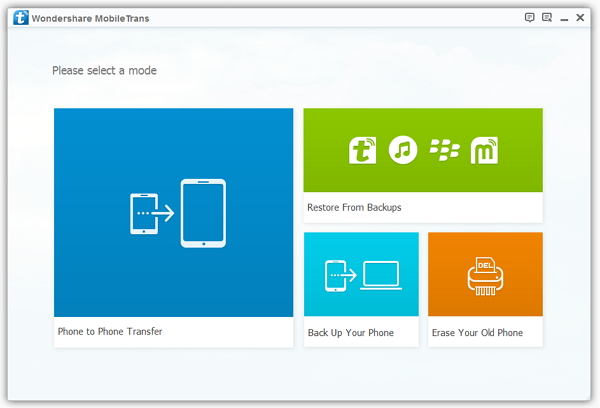 Step 2. Build the connection between your both Android and PC
Both of their USB cables are needed to link your two Android phones with your computer. The window will show them to you as soon as they have been detected by the transfer tool. At this moment, you need to confirm the position of your two phones. One is Source phone while another is Destination one. The data is transfer from Source to Destination. If their places are conversed, you can use the button "Flip" to change them.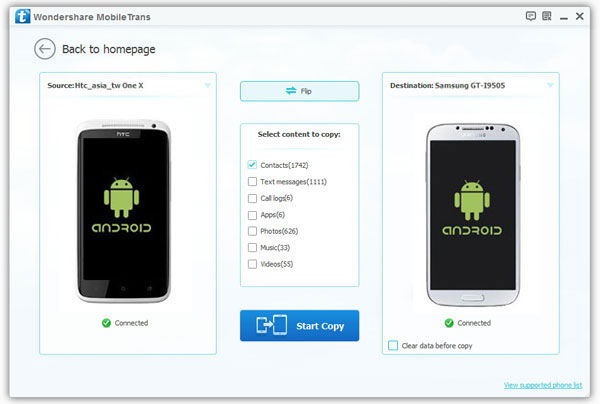 Step 3. Transfer photos from Android to Android
In this step, the content of your Source Android is displayed in front of you. You can choose "Photos" to choose those that you want them to be transferred. If you want to transfer your contacts, videos, text messages and apps, you can check them. The process of photos transfer will start when you tap the button "Start Copy".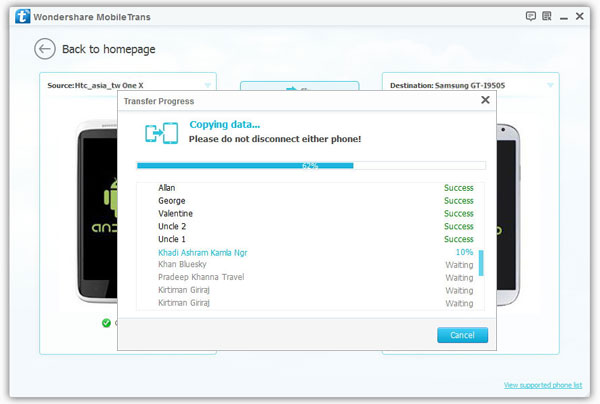 Yes, all the steps are done. Mobile Transfer is such an efficient and magical tool. Instead of using the troublesome SD card, it makes the transfer of all the data in your Android phone become possible. What are you waiting for? Start your own trip with it!
comments powered by