How to Transfer Apps between Samsung Galaxy
Are you busy downloading apps when you get your new Samsung Galaxy? Absolutely, it's a time-consuming process and sometimes it may drive you mad. To deal with the problem of data transfer between Samsung phones, I think you can take Mobile Transfer into consideration.
Mobile Transfer is a perfect data transfer tool which can move data stuff on Samsung in a simple and efficient way. Only several steps, messages, images, songs, movies and even apps all can be transferred without any quality loss. If you happen to be in need of moving apps between Samsung Galaxy phones, you can keep the following guide for reference.
If you are a Windows user, now you are allowed to download the Windows version of Mobile Transfer on your computer and have a try!
How to Transfer Apps between Samsung Galaxy Devices
Step 1. Install and Run the Window Version on your Computer
At the first place, you need to complete the installation of Mobile Transfer and launch it on your computer. After that, you can see the interface like the sample picture shows you below, choose the mode of "Phone to Phone Transfer".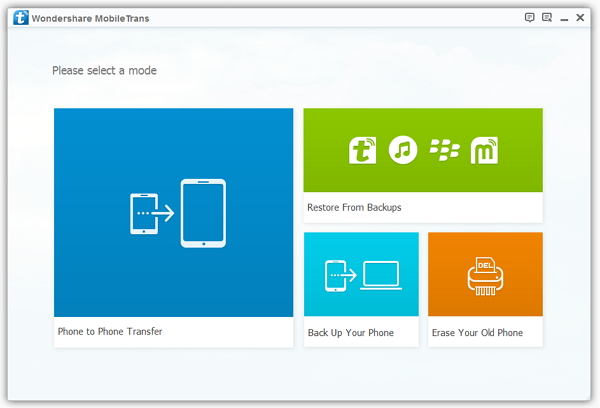 Step 2. Build the Connection Between two Samsung Galaxy Devices
Now, you are asked to link your both Samsung phones with Mobile Transfer by using USB cables. As soon as they have been detected by the program, they will be put in the position of "Source" and "Destination". If the transfer path is not what you want, you can press on the button "Flip" to exchange their positions.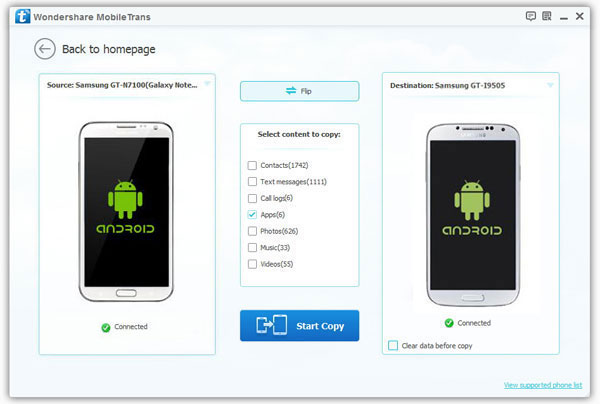 Step 3. Choose Apps you want to Transfer and Start Transfer Process
Here, you can see that Samsung data like apps, SMS, phone call records as well as contacts are listed in the contents window for you to transfer from one to another. If you want to transfer Samsung apps, you need to check the box of "Apps". Then you are required to tap on the button "Start Copy" and wait patiently for minutes until the transfer process is finished. The operation of transferring other data between Samsung phones are the same as above.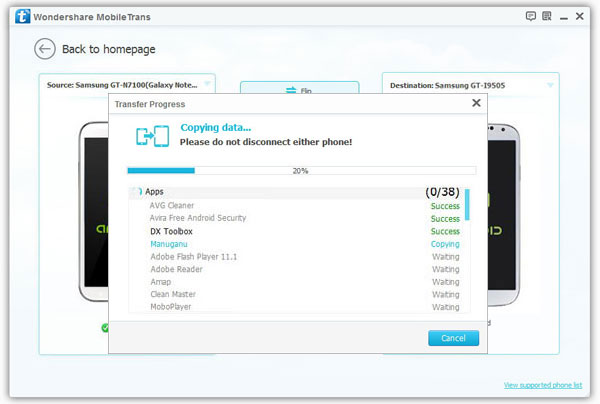 When all the mentioned steps are done, you just need to press on "OK" to finish the transfer process. Finally, if you want to share your ideas about Mobile Transfer with us, you can email us. We will be appreciative!
comments powered by