How to Remove Preinstalled Apps on Android
Mobile phones of big brand name are very popular among the public nowadays. However, the modified ROM of the mobile phones was taken up by lots of apps which installed in advance by the phone makers. It will make your phones runs in a low speed when you operate other program. Worse yet, it can not work that you directly discharge them from the setting page. Only when you get the root permission of your Android phone or tablet can you conduct the operation. Better software are in great need because to get the root permission of your Android means to put it into an unsecure environment.
Here I want to show you a fantastic app Android Data Transfer, which helps to solve the problem that how to carry out the uninstallation of the preinstalled apps on your phones. This software is powerful enough to uninstall apps from Android, in no need of getting the Android root permission. Moreover, app installation to phone, copy and output apps to computer is also workable. If you take advantage of the Android Data Transfer underneath, removing the preinstalled apps which is of no use is no longer a difficult task. In addition, Android Data Transfer can help you transfer your data between Android phone and computer in a simple way. Why not download this helpful app below right now?
Step 1. Make the Connection for your Android and computer
Android phone or tablet can be connected with your PC through the USB cable or by using Wi-Fi.
When finish the detection of your phone, it will be shown to you in the main window. You can go through the files in your Android in the column at the left side.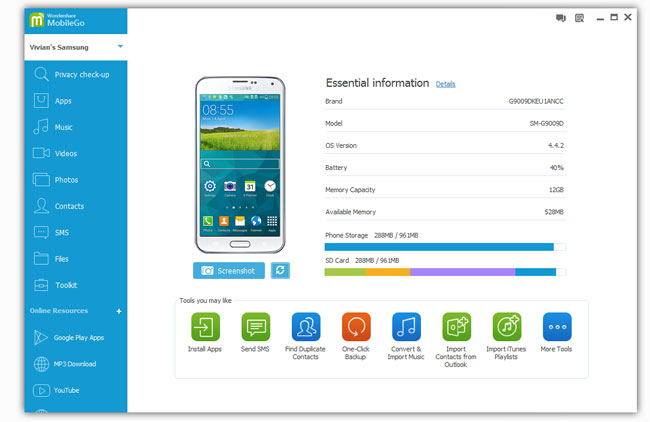 Step 2. Begin to remove preinstalled apps on your android
After you find and click the Apps tab on the left of the interface, the apps on your phone or tablet include those installed in advance are in the list on the primary window. You can select to remove those useless apps by ticking their boxes. The process of removal will start after you clicking the Uninstall button. The well connection should be guaranteed in this process.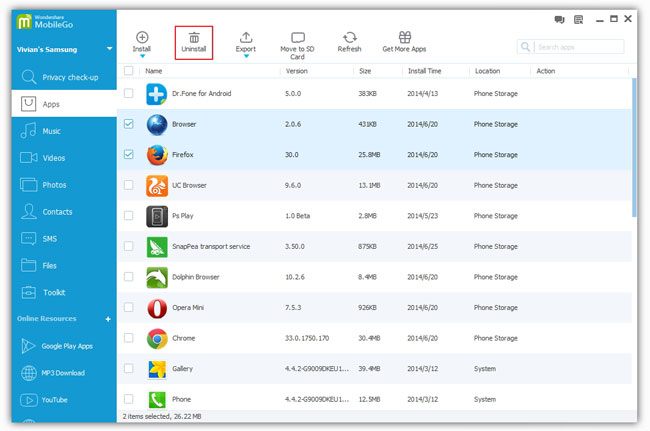 It is a simple operation that you even don't need to resort to any other professional tools. The process of uninstalling preinstalled apps on Android can only be executed with a simple click. Don't be hesitate to download it below because it will serve you well.
comments powered by