How to Use
Tutorials 1: How to Backup and Restore Android Phone Data

Part.1: Backup All Content from Android to Computer


Connect your Android phone to the computer via USB cables or WiFi.
You will find the options to backup or to restore will displayed on your device's home main interface, you can see them under "Tools you may like". The model and brand of your device will be shown (in the case below, HTC Desire). Now, you are able to choose the option you intend to use.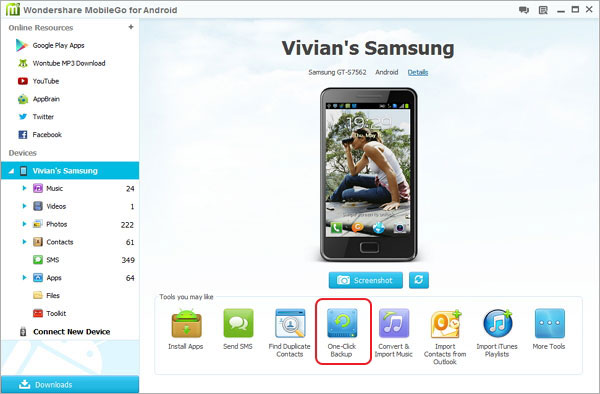 One Click to backup all data from Android phone to Computer,including Contacts, Text messages, Calendar, Cll logs, Playlists infor, Apps, Photos, Music and Videos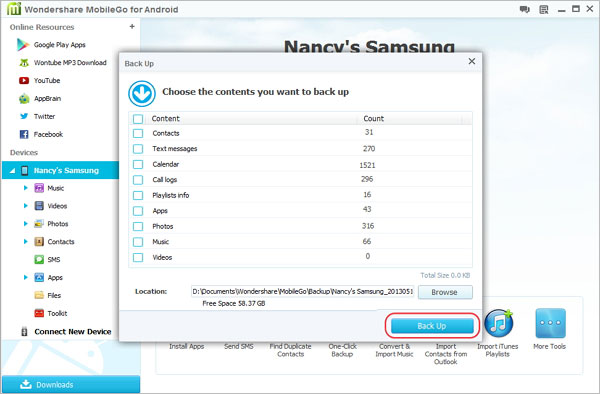 Part.2: Restore Android Phone lost data on Computer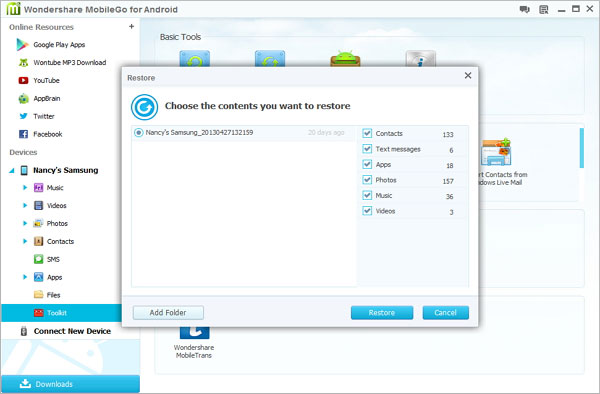 You can recover all important content from Android mobile phone,recover contect including: Text messages, Apps, Photos, Music, Videos.


Tutorials 2: Transfer and Edit Contacts from Android Phone on Computer



Use USB cables or WiFi to connect your devices to the computer.



In the left column, please

choose Contacts and on the page of Contacts, and you need to choose the Import/Export button and select a corresponding action from the drop-down list. It supports you to import/export contacts from vCard files, Windows Address Book, Outlook Express,

Outlook 2003/2007/2010 and

Windows Mail.

Moreover, for those who has save some contacts in Facebook,

Gmail,

or other accounts on your phone, Android Data Transfer can help you sync them to your phone with ease..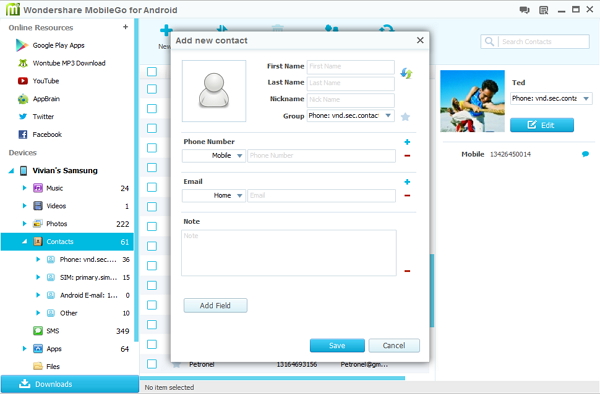 Find Duplicate Contacts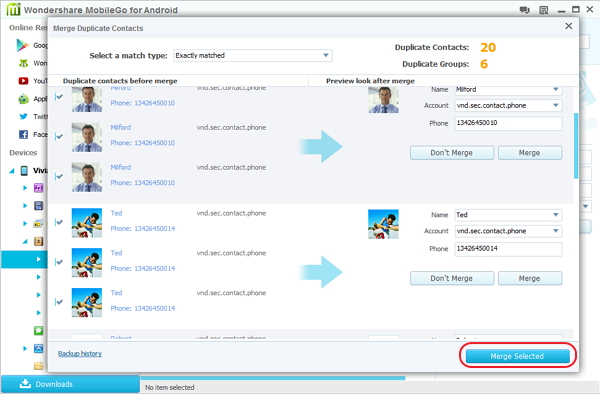 How to Add a New Contact via the computer

If you want to add contact in the form on the right of the Contacts page or click "New" to bring up the window of "Add new contact".Then you will find you can edit

phone number,

name,

middle name,

email, website, address, etc.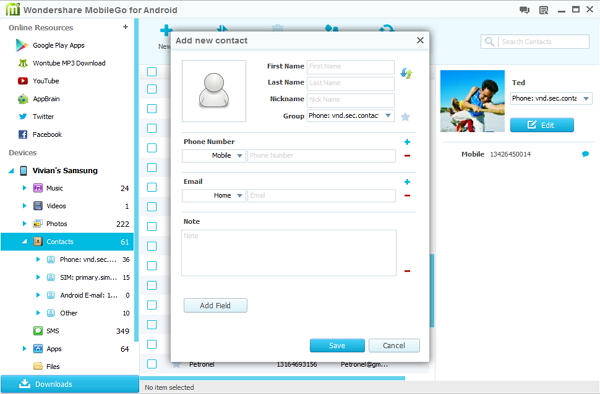 Tutorials 3: Export/Import Android SMS to PC,or Send Messages


You can transfer messages in .xml format from computer to Android device or export them from Android to your computer as .xml or .txt files.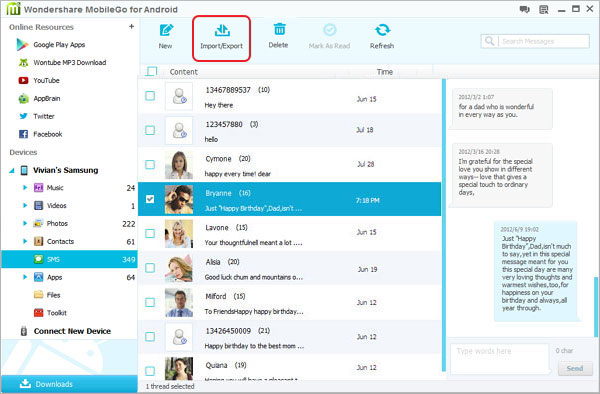 How to send Your Text Messages via a Computer

You can click on SMS in the left column, then choose New and type away. Besides, you'll even have a alert of new message when a contact replies.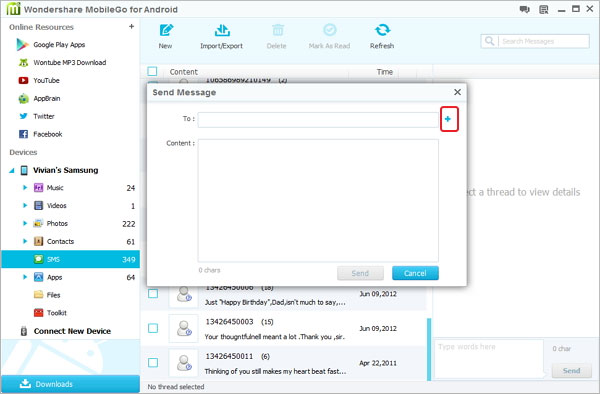 Tutorials 4: Manage SD Card Files for Your Android Phone

You can also manage the files on your phone SD Card. On the main interface, click "Files" to open your SD Card files and manage your books, music, movies, etc.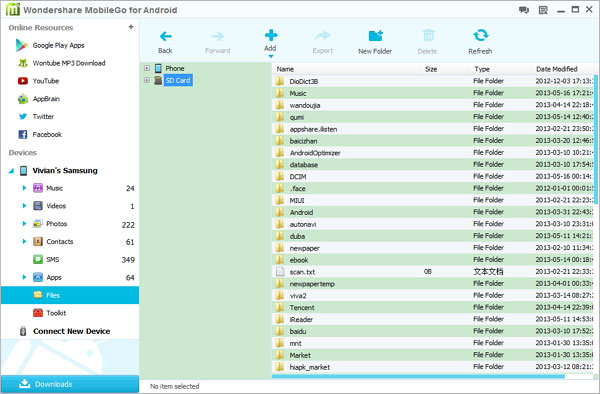 Click "Files" to open your phone. Then you can manage system and data,etc.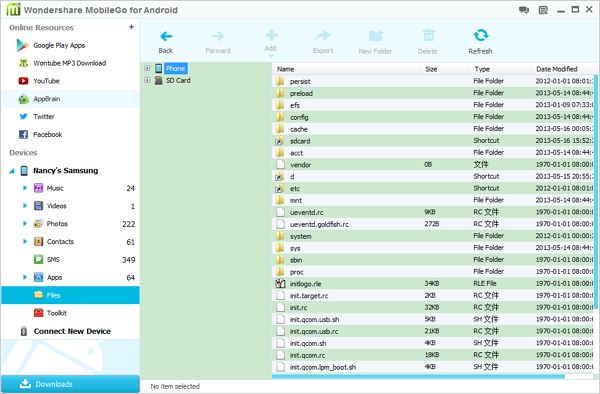 Tutorials 5: App Manage--Install/Uninstall/Export/Move and Share Apps on PC

Import photos, videos or music from Computer to Android

To import photos, videos or music, simply click on either "Photos", "Videos" or "Music" in the left column, then click the triangle under "Add" button (Add File or Add Folder).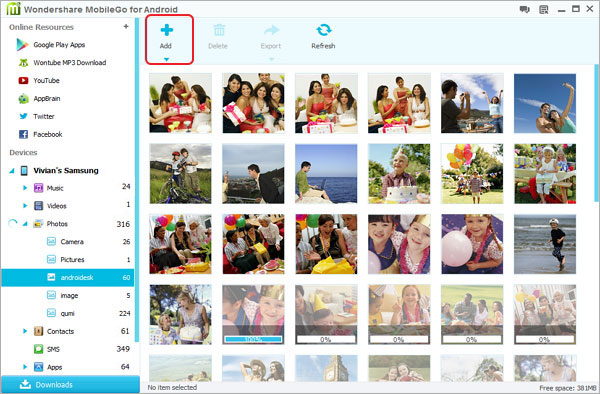 Convert any Video and Audio Format for Android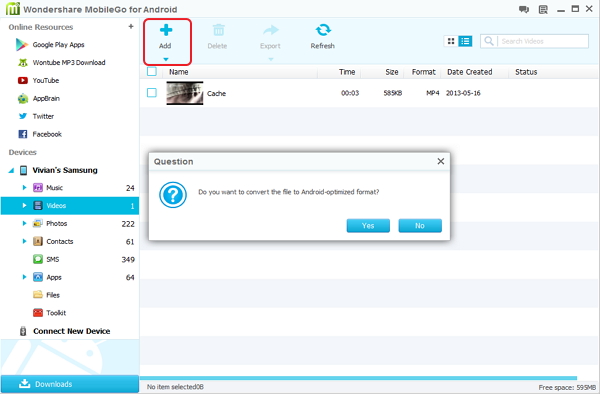 Transfer Media Files from Android to Computer

To export photos, videos or music, simply click the checkbox next to a file, then click the Export button on the menu bar. You can even directly transfer music files to your iTunes library. And if you have connected several Android devices, you can transfer media easily from one phone to another.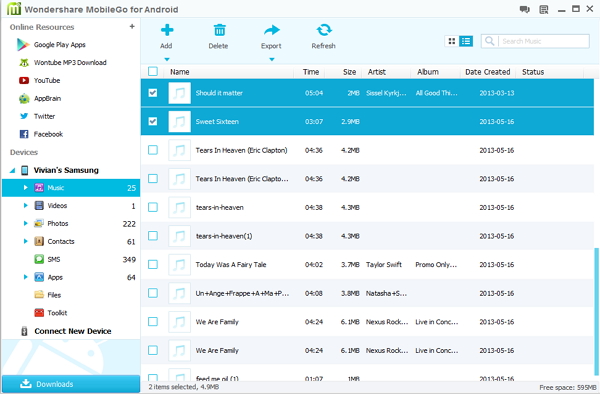 Tutorials 7: Download and transfer videos, music and apps to Android

Step1. How to Add websites

Android Data Transfer can help you add the websites you like, such as Twitter and AppBrain, to the Online Resources of Android Data Transfer. Now, you need to hit the add icon "+" or right click on the website icon exiting in the list to select "Add" button. After that, you can input the site name and URL, don't forget to click "OK" to finish it.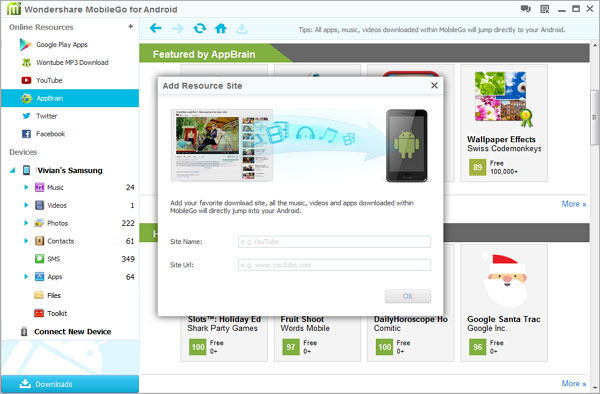 Step2. How to Download and move videos, songs and apps to Android

In fact, through Online Resource, you can download videos, songs or apps directly from the built-in Google Play, YouTube and Wontube and the websites you added, like Hulu, Appbrain, etc.